Dave Helder took BBTXLs to a whole new level with this trip. There were two stages, each a week long, both somewhat following the Euro Velo 6 route: Passau to Vienna and Vienna to Budapest.
The biking was very relaxing. Much of it is paved path, and the other segments are towns and cities with plenty of places to eat or sightsee. We tried to keep the days short, so we had time to explore our destination in the afternoon.
Instead of trying to transport your bike, most of us rented bikes from Vienna Explorer. The bikes were fine, although you should bring some basic bike tools with you. Our bikes had Dunlop tube valves, which you can inflate with a Schrader-compatible pump.
Folks doing both weeks started biking in Passau on 2019/09/09, arriving in Vienna on 2019/09/13 where more folks joined. After a rest day, the biking continued, ending in Budapest on 2019/09/20.
Day 1: Passau to Schölgen
Day 2: Schölgen to Au an der Donau
Day 3: Au an der Donau to Melk
Day 4: Melk to Krems
Day 5: Krems to Vienna
Day 6: Hanging out in Vienna
There are many ways to spend a day in Vienna. We visited the famous Prater and went into the old town for a Sacher-Torte.
Day 7: Vienna to Bratislava
The scenery on this trip can change quickly. The old-world architecture of Vienna gives way to a massive industrial complex outside the city, followed by rural cornfields dotted with Roman ruins. That was the first 30 miles, before this memorable crossing of the Danube.
Most of the time we cross via bridge, but here a small pontoon boat took us across 6 at a time. The river was swift, but the journey was short, and the pilot deftly maneuvered us around a long and low barge.
The day's ride wrapped up in Bratislava. The outskirts are booming with new construction, but the route goes through the old town center, a great place to explore before ending at a camp site.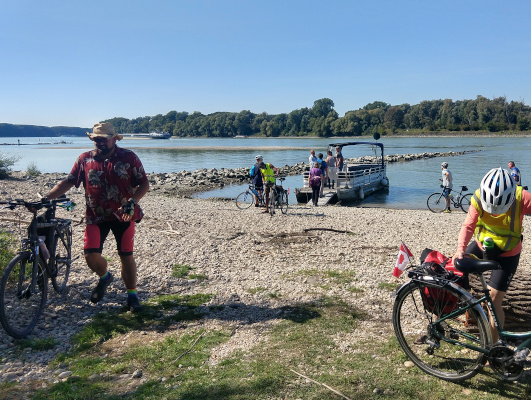 Day 8: Bratislava to Mosonmagyaróvár
After leaving the dense neighborhoods of eastern Bratislava in the morning, most of the day is spent on a gentle cycle path. Lots of people recreate on the river, and we found a sausage stand near the Slovakian border for an early lunch.
From there, we crossed over into Hungary and ended the day in Mosonmagyaróvár. There's a pedestrian cobblestone area downtown with lots of great places to eat. The town is known for dental tourism, which we did not try, and thermal baths, which we did. It was less of a geothermal hot spring and more of a series of heated pools for adults, but at any rate it was a relaxing way to spend the evening.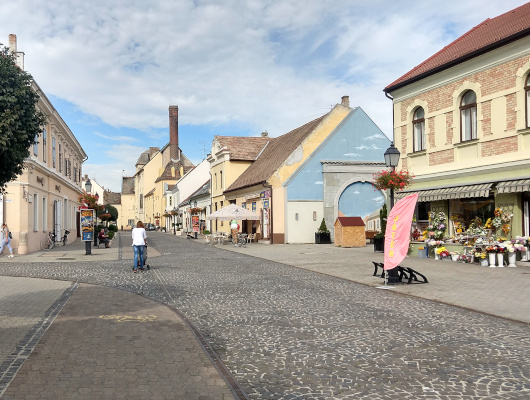 Day 9: Mosonmagyaróvár to Győr

Győr is more of a city than a town, and it left quite an impression. After having a nice meal, we pedaled around town looking at the various historical buildings. There's a castle downtown, which is the residence of the local bishop. It has a great view from the top of Püspökvár lookout tower.
Below, in the lower levels, we noticed some local children's artwork depicting a strange scene. During World War II the bishop hid people there, and when the Nazis discovered this they shot and killed him in the basement. The bullet holes have been preserved, and now there's a memorial to the bishop and the events that took place in that room.
Day 10: Győr to Komárom
This town straddles the river, with half in Hungary and half in Slovakia. We camped overnight on the Hungary side, but popped over the bridge to Slovakia to see the old town center.
Day 11: Komárom to Esztergom
It's on the top of a hill, but the old town has spectacular views of the area and beautiful old buildings. The basilica was built around 1000 CE, and was wrapping up its millennial celebration.
Day 12: Esztergom to Budapest
It's always jarring transitioning from small towns and pastoral landscapes into a big city, but we found Budapest to be very friendly to in terms of people and bikes.
Day 13: Hang out in Budapest
We visited the Great Market Hall and took the funicular up to Buda Castle. There were a number of art print shops, like Printa that are worth checking out.